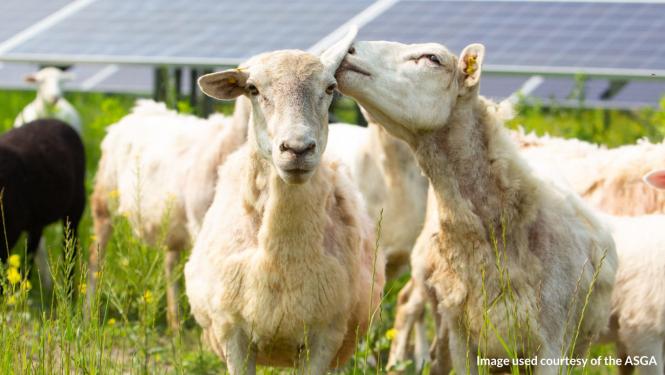 Here at Southeast AgriSeeds, we are excited to announce that we are able to assist you with Solar Panel grazing projects.
Solar Grazing is "the practice of grazing livestock on solar farms. Sheep are the most common solar grazing animals, as they are the best-suited species. Sheep are naturally suited to the job of solar grazing. They enjoy the shade of the solar panels on hot days, napping and grazing where humans would struggle to reach. They are resourceful foragers, walking to search for vegetation that might otherwise become a shady nuisance for the solar company. For the safety of the existing, low-mount solar arrays, goats, cows, pigs, and horses are not recommended. Solar grazing keeps farmland in farm production. Farm incomes are down, and solar grazing allows farmers to increase and diversify revenues without taking land out of food production. Solar grazing contributes dairy, meat, and wool to the regional market. Solar grazing reduces or eliminates the need for mowing at solar sites, reducing emissions and costs. With solar grazing, the vegetation at solar sites becomes a source of nutrition and a pasture for sheep." – ASGA (American Solar Grazing Association)
We will be able to assist you in deciding on the best seed, or mixture, for your operation. We specialize is assisting people in Georgia, Alabama, Tennessee, Mississippi, Louisiana, Florida, North Carolina, and South Carolina. We are excited about these new endeavors, so don't hesitate to reach out. We will be more than happy to help!