Non-Legume Mixture
Double Play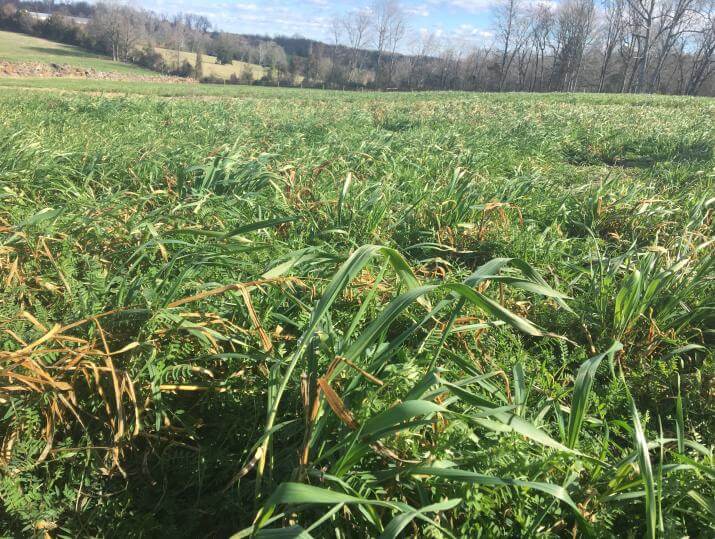 An excellent strategy for full-season forage production, this mix capitalizes on the vastly different growth periods of three winter annual grasses: spring oats, triticale, and annual ryegrass. Maximize grazing days with Double Play! Ideal for grazing or baleage, not recommended for dry hay.
Download Tech Sheet
See testimonials
Add new testimonial
---
Mixture Components
Spring Oats
Spring oats jump quickly out of the gate and with adequate moisture and will be ready to graze in 45-55 days. They may winter kill if temperatures stay in the teens for several days.
Triticale
A cold-tolerant small grain with a wide leaf that grows in cooler weather, providing forage in mid-winter.
Ryegrass
Ryegrass produces a massive fibrous root system, tolerates traffic and provides quality yield in mid-spring through early summer.
Planting Instructions
Drill at 0.5-0.75" depth. Calibrate your drill to ensure you have an accurate rate. Broadcasting is not recommended due to the size of the triticale and spring oat seed.
| | |
| --- | --- |
| Seeding Rate - Drilled | 75-120 lbs/ac |
| Planting Depth | 0.5-0.75" |
| Target Harvest Height | 8-15" grazing or 15-25" chop |
| Target Residual Height For Regrowth | 3-6" |
Testimonials
That double play is the cat's meow.

Pittsboro, NC