Legume Mixture
Ray's Crazy Fall Mix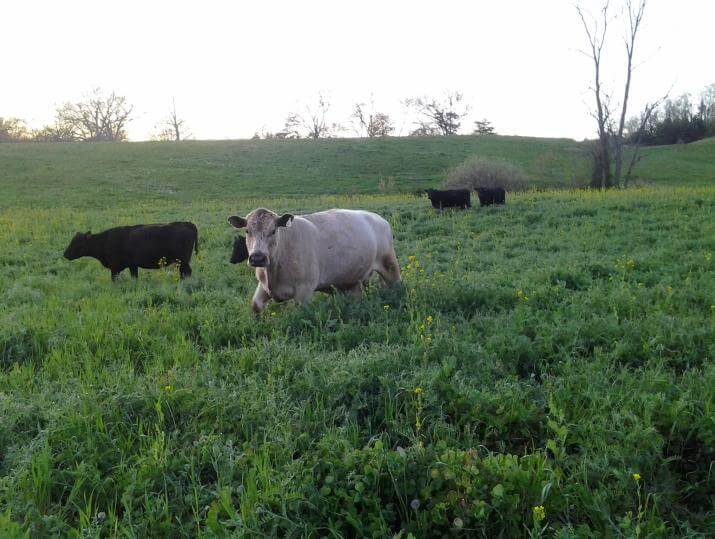 The ultimate winter mix for diversity—designed with the principles of soil health in mind: keep the soil covered, undisturbed, continuously have a living root, integrate livestock, and have plant diversity. This mix can provide forage from early winter through late spring. Perfect for grazing or as a cover crop, not recommended for dry hay or baleage.
Download Tech Sheet
See testimonials
Add new testimonial
---
Mixture Components
Spring Oats
These oats jump quickly out of the gate and with adequate moisture will be ready to graze in 45-55 days. They may winter kill if temperatures stay in the teens for several days.
Triticale
A cold-tolerant small grain with a wide leaf. This small grain provides quality grazing from mid-winter to early spring.
Ryegrass
Produces a massive fibrous root system, tolerates traffic and provides quality yield in spring through early summer
Austrian Winter Pea
A highly palatable, vining legume that will grow up small grains to thicken the canopy.
Crimson Clover
Fixes nitrogen and is high in crude protein. The most yield comes early to mid-spring.
Vetch
A legume that provides tremendous yield in mid-to-late spring with excellent ability to suppress weeds.
Daikon Radish
Fights soil compaction and mines for nutrients deep in the soil
T-Raptor Hybrid
A bulbless brassica that provides very leafy growth, regrows very well after harvest or grazing and has prolific taproots that mine deep into the soil for moisture and nutrients.
Planting Instructions
Drilling at 0.5" depth into moist soils is recommended. Calibrate the drill to ensure you are putting out the correct seeding rate.
| | |
| --- | --- |
| Seeding Rate | 40-60 lbs/ac |
| Planting Depth | 0.5" |
| Target Harvest Height | 8-15" |
| Target Residual Height For Regrowth | 3-6" |
Testimonials
By GOD'S Grace I am a cow/calf farmer in North Carolina. My job is to provide a diverse variety of foliage and the cows know their role. By partnering with Southeast AgriSeeds I am able to use the latest seed technology, get ongoing technical support and produce the optimum number of grazing days. Thru Southeast's help I am also continually improving the quality of my baled hay.

Eden, NC